Popping on to the scene in 1984, the Jordan sneakers, a shoe that would forever change the shoe game on the basketball court- and equally in the entire sneakerhead culture.
In our passions, we not only love everything about sneakerhead culture, but also how we can apply them to different tastes and crafts of our creative aims. One of our most beloved collections started with our mini sneakers craft collection.
When we put the two together, something new, something absolutely special came of the drawing board session between our team here: we decided to bring the shoe rack to the clock, and decided it was time to mix the two.
Catch the time and dunk on the competition with our special Air Jordan 3D Sneaker Clock!
Each hand painted sneaker is meant to commemorate the time of the Air Jordan, from 1-12 of the Flight Club. What began as something new in the 80s for MJ, became one of his greatest legacies with time. With having a sneaker from each release from 1 to 12, you can see the hands of time take you through the eras themselves, honoring number 23 for the line of footwear he had created.
The mini sneakers are all hand painted shoes of original designs from the artistic visions of our team here at Relics Japan, helping make each clock an original craft for you. The mini sneakers themselves are made of ABS plastic, designed to only help add to the originality of your clock.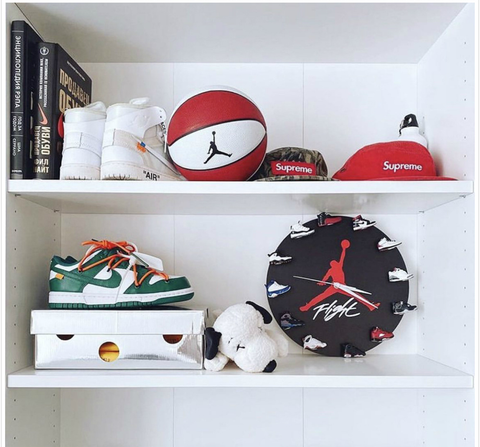 Own 1 to 12 all at once: comes with 12 pairs of mini Jordans(1 to 12). The Jordans can be rearranged or removed. 
Craftmanship: the Jordans looks and feels like original adult size shoe     
SPECIFICATIONS 
Dimensions

 

 

12" diameter 

Material

Clock  body is made by premium  MDF

Shoes are made of PVC

Battery

Clock uses 1.5 V battery, battery not included.